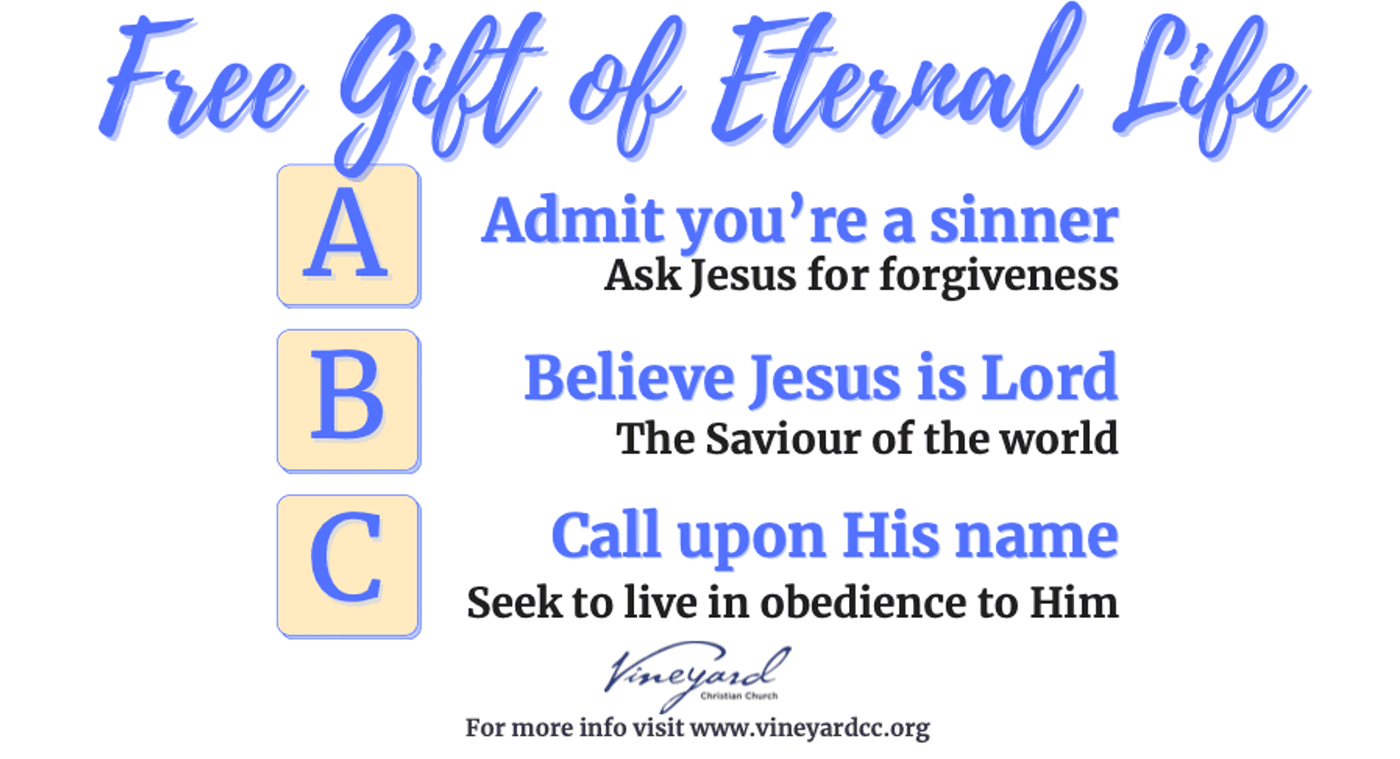 Hey there!
Thanks so much for dropping by to find out more information.
You are likely to have received a thank you card - so firstly, thanks so much for showing kindness to someone from our church!
Here's that extra information we wanted to show you!
Believing in Jesus is the first step on the greatest journey of your life. To SAY YES to Jesus is to believe that Jesus is Lord, that he died for the sins of the world, and that he defeated death and offers you new life!
The card you received had on it what we call the 'free gift of eternal life' made available to you when you follow the 'ABC's of salvation'. It's super simple!
A - Admit you're a sinner... ask Jesus for forgiveness. The bible says in Romans 3:23 for all have sinned and fall short of the glory of God,
B - Believe Jesus is Lord... the Saviour of the world! The bible says in Romans 10:9 that if you confess with your mouth the Lord Jesus and believe in your heart that God has raised Him from the dead, you will be saved.
C - Call upon His Name... seek to live in obedience to Him. The bible says in Romans 10:13 for "whoever calls on the name of the Lord shall be saved."
We encourage you to SAY YES to Jesus! Here is a prayer you can pray right now:
"LORD JESUS, THANK YOU FOR DYING ON THE CROSS FOR MY SIN. I OPEN THE DOOR OF MY LIFE AND RECEIVE YOU AS MY SAVIOUR AND LORD. I REPENT OF MY SINS AND ASK YOU TO WASH ME CLEAN. THANK YOU FOR GIVING ME ETERNAL LIFE. GROW MY FAITH AND MAKE ME THE KIND OF PERSON YOU WANT ME TO BE. TODAY I SAY YES TO YOU JESUS AND I CHOOSE TO FOLLOW YOU. AMEN".
Did you just say Yes to Jesus? We would love to hear from you and you can get in touch by completing the simple form below. One of our Pastors will be in touch with you.
If you are not quite ready to say Yes to Jesus yet, we would still love to get to know you! You would be welcome to visit one of our family friendly services and you can get more information about attending a service right here